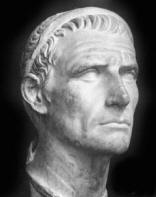 Antiochus III 242-187 BC
Also called Antiochus the Great, this man was a

Seleucid king, which means he was a member of the ruling Greek family that was founded by

Seleucus I.
PRONOUNCE SELEUCID

194 BC - Rome made war against Antiochus, king of Syria.

Hannibal fought for Antiochus against the Romans.
In 190 BC, Antiochus was completely defeated at the

Battle of Magnesia and was glad to accept peace on conditions which left him dependent upon Rome.
In 188 BC, Antiochus had to agree to the

Treaty of Apamea.


Here is a map of Antiochus' world around 200 BC

200 BC Macedonian Empire
Click to enlarge


And this is a map of 188 BC, after the Treaty of Apamea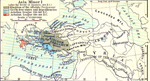 ASIA MINOR AFTER THE TREATY OF APAMEA
Click to enlarge
More History