Seleucus I Nicator 358-281 BC
Seleucus was a general in

Alexander III the Great's army.
Alex and Seleucus went way back. Seleucus' father, Antiochus, was already a general for Alexander's father, Philip II.
One of Seleucus' major battles was the

Battle of the Hydaspes in 326 BC.
In 324 BC, Seleucus married Apama, the princess of Bactria. Seleucus and Apama had a son, Antiochus.

Later, Seleucus married Stratonice and when his son fell in love with stepmother Stratonice, Seleucus gave his blessings and married the two. That's right. 285 BC. Those were the days.
In 321 BC, Seleucus became

satrap, or governor, of Babylon.
In 301 BC, Seleucus teamed up with

Lysimachus,

Cassander, and

Ptolemy and got rid of

Antigonus at the

Battle of Ipsus, the famous encounter of the

diadochi.
And here is a map of Seleucus' world in 301 BC: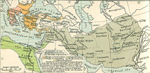 THE MACEDONIAN EMPIRE IN 301 BC
Click to enlarge
In February 281 BC, Seleucus managed to kill Lysimachus in the

Battle of Corupedium. He didn't have long to celebrate because in September 281 BC, he was killed by Ptolemy's son, Ptolemy Ceraunus.
Seleucus was the founder of the

Seleucid Dynasty.
Seleucus' successor was his son Antiochus I.
More History