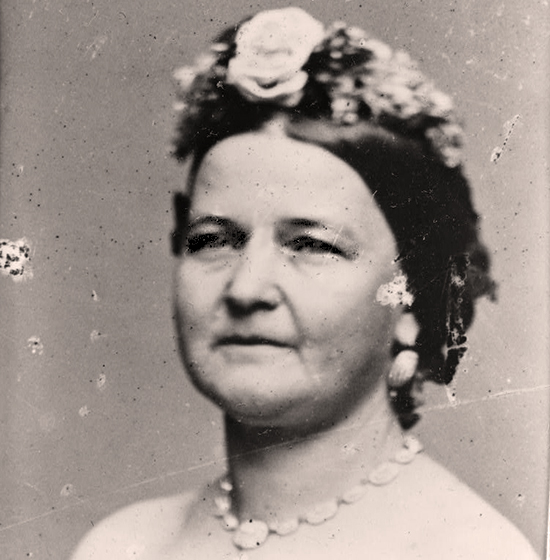 Mary Todd Lincoln 1818-1882
Who Was Mary Todd Lincoln?
Wife of famous 16th president

Abraham Lincoln, Mary Todd Lincoln was the country's First Lady from 1861 until 1865.
Image Above

Detail from the Mrs. Abraham Lincoln portrait, photographed between 1860 and 1865 (?)

Library of Congress
Mary's Family
Mary's father was Robert Smith Todd.
Mary's mother was Eliza Parker Todd.
Mary's parents were pretty well off financially. Eliza died in 1825 and Mary's father married again. Mary had a sister, Elizabeth.

Mary Todd Lincoln
Mary & Abe
Abraham Lincoln was a diligent lawyer when he noticed Mary Todd. He then got cold feet and told Mary to forget about it.
Abe changed his mind once more and married the girl in 1842.
Mary Todd Lincoln's Mental State
Mary Todd used to be a healthy and energetic woman. But several events in her life, and finally Abe's assassination, pushed her over the edge.

What exactly had happened?
Abraham and Mary Lincoln had a son, Edward. But Edward died when he was just three years old. Second son Willie died in 1862 of typhoid fever. Third son Thomas (Tad) died in 1871.
Mary was beyond devastated, but there was more to come.
Additionally, Mary found herself sitting between chairs during the

Civil War. She was born in Kentucky and her relatives were fighting for the South.

PICTURE OF MARY TODD LINCOLN
National Archives
[+] Click image to enlarge
On top of that, there were rumors of Mary wasting money by the bucket. How come?
Mary Lincoln liked to dress well and have some decent furniture around. That didn't sit well with some folks and evil tongues spread evil gossip.
And finally, in 1865, her husband was shot right in front of her. And that was just about all the girl could handle. She packed her bags and traveled to Germany and England.

Mary developed paranoia and thought she was supremely poor, which wasn't the case at all.
In 1875, son Robert arranged for Mary to spend some time in a mental institution. She was eager to leave and when she did, she traveled once more to Europe for a few years.

Apparently, some of her letters

have been found recently.

MARY TODD LINCOLN
WHITE HOUSE HISTORICAL ASSOCIATION
[+] Click to enlarge.
More History