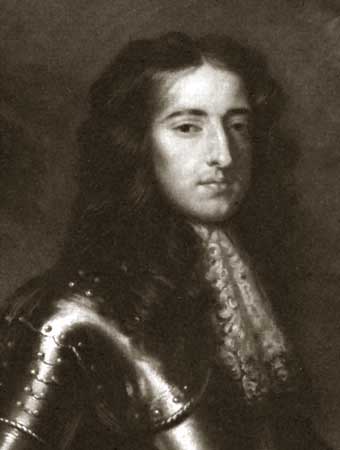 William III of Orange 1650-1702
William III was also called William of Orange.

He was stadholder of the United Provinces of the Netherlands from 1672 until 1702 and King of Great Britain from 1689 until 1702. As such he ruled together with Queen Mary II until she died in 1694.

See also the chart Governments in History.


In 1701, William III formed the Grand Alliance of Austria, the Empire, the United Provinces, England, and other powers, against France.
In 1702, William died, but his successor,

Queen Anne, adheres to the Grand Alliance and war is proclaimed against France.
The Family of William III of Orange
William's father was William II, the Prince of Orange. His mother was Mary, daughter of

Charles I of England.
William's Campaigns
Here is a map of Williams trip from the coast to the English throne.

England Campaigns 1685 - 1688
Click map to enlarge

Map of England and Wales: Route of William of Orange (1688)
And here is a map of the

Jacobite War which William fought because former king

James II wanted to have his job back.

Ireland 1689 - 1691 Jacobite War
Click map to enlarge

Map of William's march in Ireland, 1690:

Map of William's March in 1690


This map here illustrates William's campaigns on the European continent during the

War of the Grand Alliance.

Flanders and Brabant 1690 - 1696
Click map to enlarge
More History