The Battle of Fleurus in 1794 was part of the

War of the First Coalition, which in turn was the first phase of the

French Revolutionary Wars.
Who Fought the Battle of Fleurus?
France, with 73,000 troops and led by

General Jean-Baptiste Jourdan, and

Jean-Baptiste Kleber, fought members of the

First Coalition, in this case the Austrians and the Dutch, who had 52,000 troops at their disposal.
Commander of the allied forces was

Coburg.

The French won and sat on the Low Countries for the next twenty years.

And here is the map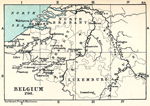 Belgium 1792
Click map to enlarge

Check here for more battles that took place at Fleurus.
Here is more about the

Coalitions against France.