Jean-Baptiste Kléber 1753-1800

Proficient, Brave, Prudent, Dead at 47
Kleber was born at Strasbourg on March 9, 1753, the son of a mason.
Image Above

Portrait of Jean-Baptiste Kleber, Lieutenant-Colonel of the 4th Batallion of the Upper Rhine in 1792

Detail from Paulin Guerin's oil on canvas, 1834

Versailles


Kléber in a Nutshell
Interestingly, Kleber started his military career in the Austrian army.
By the end of his life, he had become one of the most distinguished French generals of the

French Revolutionary Wars.

And here is the France of Kleber's days on a map:

1769 - 1789 France
Click to enlarge

Jean-Baptiste Kléber's Career
Kleber joined the Austrian army in 1776.
He returned to Alsace in 1783 and worked for a while as a building surveyor.
In 1792, and in consequence of the

French Revolution, Kleber signed up as a volunteer with the French revolutionaries.
Kléber at Mainz
In October 1792, the French had taken the city of Mainz (Mayence). From April to July 1793, the Prussians and Austrians returned to take it back. Lieutenant Colonel Kleber was one of the French soldiers who defended Mainz from the besiegers.
The Siege of Mainz was part of the

War of the First Coalition, by the way.
Although the French had to evacuate the city on July 22, 1793,

General Custine was impressed by Kleber's performance, made him brigadier general in August 1793, and sent him to fight the Vendeans.
Kléber at La Vendée
Vendée is a maritime department in western France. The Vendeans took part in the insurrection of 1793 against the Republic. As far as they were concerned, being Roman Catholic and having an emperor was just fine. The French revolutionaries begged to differ.
These were the

Wars of the Vendee and Jean-Baptiste Kléber was sent to help straighten things out in favor of the revolutionaries.
He fought — and won — the
Battle of Cholet on October 17, 1793

Battle of Le Mans on December 12, 1793

Battle of Savenay on December 23, 1793

Kléber at Fleurus
Together with Jean-Baptiste Jourdan, Kleber led his team to the important victory at the

Battle of Fleurus, which was fought on June 26, 1794. This battle was part of the

War of the First Coalition.
Kléber in Egypt
Napoleon was ready to take on the

Ottoman Empire, to damage British trade connections, and to sprinkle a little education and culture in the name of France while at it.
To this end, he assembled a squad that would fight and accompany his Egypt Campaign. Napoleon and his army left Toulon in May 1798, and arrived at Abu Qir on July 1, 1798. His men would stay in Egypt until 1801.
Back to Kleber.
Kleber was wounded while fighting at Alexandria in July 1798.
On April 16, 1799, he won the Battle of Mount Tabor, or Thabor.
On August 22, 1799, Napoleon was on his way back to France and left Kleber on location as commander-in-chief.
On March 20, 1800, Kleber won the Battle of Heliopolis. Here is the picture:

Battle of Heliopolis, 1800
Oil on canvas Leon Cogniet / Karl Girardet
Versailles
On April 21, 1800, Kleber took Cairo again.
On June 14, 1800, at Cairo, Kleber was killed by Sulayman al-Halabi, a hired dagger from Syria. Here is the picture:

Assassination of General Kleber, Commander of the Army in Egypt
Left to right: Architect Jean-Constantin Protain, Assassin Sulayman al-Halabi,
and General Jean-Baptiste Kleber. Protain was wounded but survived.
Kleber died within minutes.
Gouache on cardboard by Jean-Baptiste Lesueur
Musée Carnavalet, Paris
And here is the

Assassinations in History archive.
Jacques Menou became Kleber's successor in Egypt.
Who Was Sulayman al-Halabi?
Sulayman al-Halabi, also spelled Sulaiman, Soleyman, Soliman, or anything similar, was a young Muslim in his early twenties from Aleppo, Syria.
In May 1800, he traveled to Cairo for the hit. Apparently, it was his first job in this line of work, and it would be his last one.
Sulayman was captured by the French, tortured, and impaled.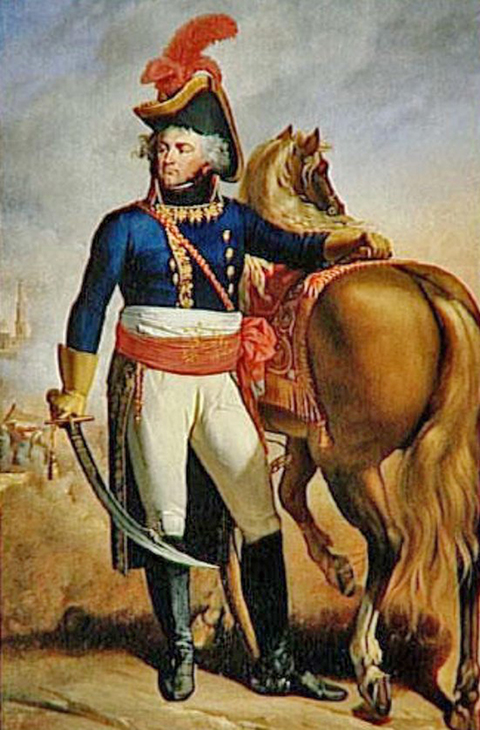 Jean-Baptiste Kléber, Général en Chef de l'Armée D'Orient
Oil on canvas by Antoine Ansiaux
Versailles
More History