Ottoman Empire 1320-1922


The Ottoman Empire was founded by Osman, who lived from 1258 to 1324. The Arabic word for Osman is Uthman, hence Ottoman.
Mehmed Vahideddin, aka Mehmed VI, was the last Ottoman ruler.
The end of the Ottoman Empire came in 1922, when the Turkish Republic was established.
As to his experience with regards to ending an empire see also

Lvov Trivia.
Here are the Ottoman sultans:
And here are the maps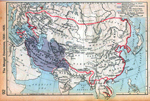 POSSESSIONS OF THE OTTOMAN TURKS
Click map to enlarge
More under

Governments of Turkey.
See also

Timeline of Modern Turkey.
More History