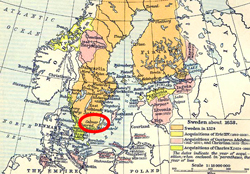 MAP LOCATION OF KALMAR, SWEDEN
Kalmar Union 1397-1523
Map above:

Illustrating the location of Kalmar, Sweden.

Click map to enlarge.
The Kalmar Union united Denmark, Norway, and Sweden under one ruler. Sweden dropped out of the Union and became independent in 1523.
About Kalmar
Kalmar is a city and a county on the Swedish east coast. Above is the map. On it, you will find Kalmar spelled Calmar.
What Happened at Kalmar?

Margaret I was the Queen of Denmark, Norway, and Sweden. But separately. She became queen of Denmark in 1375, of Norway in 1380 and of Sweden in 1389.
Margaret thought one might as well merge Scandinavia. Therefore she assembled all responsible individuals at Kalmar and, on June 17, 1397, they crowned her sister's grandson, which also was Margaret's adopted son, Erik.
Thus, Erik of Pomerania became Erik VII, king of the united dominions of Denmark, Norway, and Sweden. On paper, that is. Margaret was glued to her chair and kept ruling until her death.
The End of the Kalmar Union
Sweden broke away from the Union in 1523 under their new king

Gustav I Vasa.
Norway tried something similar and started a civil war with Denmark. The action backfired, the Danes put their foot down and declared Norway a Danish province in 1536.

See also

Christian II.
More History