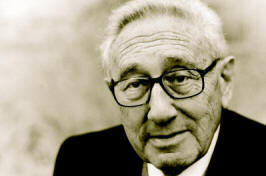 Henry Kissinger (born 1923)


Henry Kissinger is a diplomat. His negotiations introduced him to the governments of the Soviet Union, China, Vietnam, and the Middle East.
When

Nixon resigned in 1974, Henry kept his job. Enough said.

Henry Kissinger was secretary of state from 1973 to 1977. He was born in Germany.
In 1938, his Jewish family moved to the US because of the Nazis. As a result, Kissinger fought in

World War II against Germany.

HENRY KISSINGER 1976
Click image to enlarge
Henry Kissinger is a Harvard man. His specialties are security matters and foreign policy. Consequently, he was in high demand when

Fidel Castro was breathing down

Kennedy's neck, and of course throughout the

Cold War.
Henry Kissinger received the

Nobel Prize of Peace for his negotiations with North Vietnam in 1973.
More History