HENRY LANE WILSON
1857 - 1932

Conservative Republican Ambassador plots against Mexican President

US diplomat Henry Lane Wilson became famous for seeking US recognition of the Huerta government during the

Mexican Revolution. Actually, the real outrageous part was that the rebels signed their agreement of understanding in Wilson's office.
Henry Lane Wilson's term as US Ambassador to Mexico

US President William Howard Taft appointed Henry Lane Wilson US ambassador to Mexico on December 21, 1909.

Wilson presented his credentials to the Mexican government headed by Porfirio Diaz on March 5, 1910.


Normal diplomatic relations were interrupted when the commander of the federal forces, General

Victoriano Huerta, overthrew President

Francisco Madero at the end of the

Ten Tragic Days on February 18, 1913.
US President

Woodrow Wilson told Henry Lane Wilson to book his ticket back home for July 17, 1913. Shortly after, President Wilson requested Ambassador Wilson to resign.
What was going on?


HENRY LANE WILSON around 1911
Library of Congress


Henry Lane Wilson and the Mexican Revolution
Henry Lane Wilson was not very fond of Mexico's President Madero. To be exact, Wilson said Madero was a "lunatic" and unable to rule the country.
It came therefore as no surprise that at the end of the Ten Tragic Days, Huerta and Diaz met in Wilson's office to sign their treaty, which became known as the Pact of the Embassy.
Signing this pact, Huerta and Diaz agreed to overthrow Madero and to put Huerta into the presidential seat.
Henry Lane Wilson got a lot of heat for taking part in this plot, although he denied his involvement and sued if he had to, see below.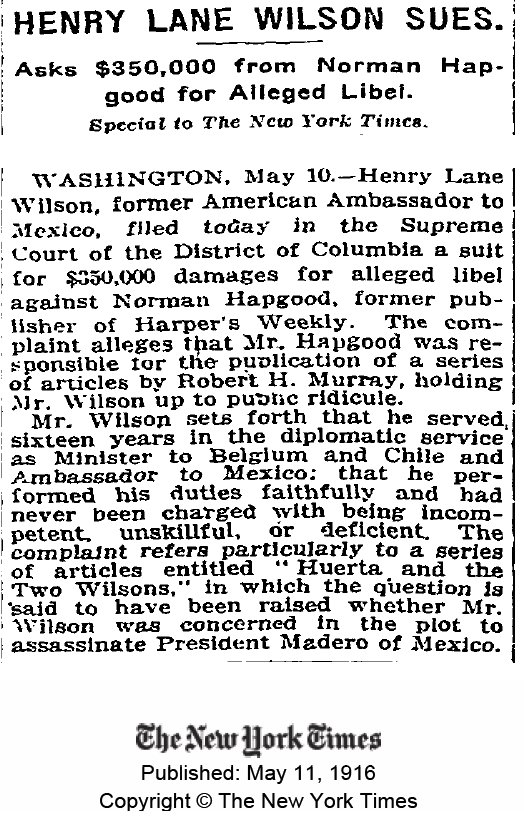 William Bayard Hale was a reporter sent by Woodrow Wilson to find out undercover what the hell was going on down there in Mexico.
Hale arrived in Mexico City on May 24, 1913. His reports were an eye-opener for President Wilson. In a nutshell, Hale connected the diplomat Wilson very closely to the murder of President Francisco Madero.
Ambassador Wilson had a hunch what Hale was really in the country for and declared that he estimated Hale's mind as "unevenly balanced." He also pointed out that from the US point of view he, and he alone, knew what really was going on in Mexico.
To no avail. The ambassador was recalled on July 17, 1913.
Check this event in the context of the

timeline of the Mexican Revolution.


HENRY LANE WILSON 1923
Library of Congress

Henry Lane Wilson's Family
Henry's father was James Wilson, also a diplomat. Henry's older brother was John. Henry 's wife was Alice.
Henry Lane Wilson's Short Biography

November 3, 1857

Birth in Crawfordsville, IN

1879

Graduates from Wabash College

Practices law

1882

Becomes owner and editor of the Indiana Lafayette Journal

1885

Moves to Spokane, WA, practices law

June 9, 1897 to 1904

Becomes US Minister to Chile

1905 - 1910

Minister to Belgium

1910 - 1913

Ambassador to Mexico

December 22, 1932

Death in Indianapolis
Henry Lane Wilson Documents
The man didn't lose any sleep over his performance in Mexico. In his memoir Diplomatic Episodes in Mexico, Belgium, and Chile. (Washington, NY: Kennikat Press, 1927) he wrote,
"After years of mature consideration, I do not hesitate to say that if I were confronted with the same situation under the same conditions, I should take precisely the same course."

Sounds familiar?
"No apologies. No regrets." -

Henry Kissinger
More History