Paul von Hindenburg 1847-1934
If you were looking for the

airship LZ 129 Hindenburg - Click Here
Back to Paul von Hindenburg, the person:
Paul's full name was Paul Ludwig Hans Anton von Hindenburg and Beneckendorff. He was German.
During

World War I, Paul von Hindenburg became even more popular than

Kaiser Wilhelm II himself.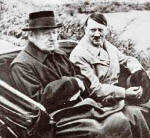 Hindenburg and Hitler
Paul's biggest mistake was to make

Adolf Hitler chancellor. That was on January 30, 1933. Lucky Paul didn't live to see the mess.

Hitler AND HINDENBURG
PAUL VON HINDENBURG'S FAMILY
Paul's father was Robert, a Prussian officer. Paul's mother was Luise.

DASHING PAUL IN 1866
Deutsches Historisches Museum Berlin
[+] Click to enlarge.
PAUL VON HINDENBURG - SHORT BIOGRAPHY
1847 Birth in Posen, Prussia (now Poland)

1859 Cadet

1866 Fights in the Battle of Königgrätz ( Seven Weeks' War)

1870 Fights in the Battle of Sedan ( Franco-German War)

1911 Is a comfortable commander general and enters retirement, or so he though.

1914 Back to soldier life as field marshal during World War I. General Erich Ludendorff did all the work but Paul is celebrated hero of the Battle of Tannenberg.

1916 Commander of the German army

1919 Second attempt at retirement. Lives in Hanover, Germany.

1925 Elected second president of the Weimar Republic (until 1934)

1930 Makes Heinrich Brüning chancellor

1932 Re-elected president. Fires Brüning and makes Franz von Papen chancellor. Franz' cabinet resigns and Paul makes Kurt von Schleicher chancellor.

1933 Schleicher resigns. Paul thinks what the heck and makes Adolf Hitler chancellor. Franz von Papen becomes vice chancellor.

1934 Death in Neudeck, Germany (now Poland)

SHOULD'VE THOUGHT TWICE BEFORE SIGNING IT - PAUL AT HIS DESK
Deutsches Historisches Museum Berlin
[+] Click to enlarge.
More History