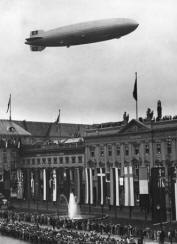 Airship Hindenburg March 1936-May 1937
This entry and photos are about the rigid airship Hindenburg.
Go here for more about the person

Paul von Hindenburg.
Back to the aircraft. It is also called dirigible, from the French word diriger - to steer, and sometimes it is called zeppelin, which is in honor of Ferdinand Count of Zeppelin, its German inventor, who lived 1838 - 1917.


HINDENBURG OVER NEW YORK
The Hindenburg was something the Nazis were extremely proud of, and rightly so. It was the first zeppelin with separate passenger decks and transported the rich and famously rich for measly 1,200 Reichsmark in only 3 days from Frankfurt, Germany, to New York, USA. In comparison, taking the ship could take up to two weeks. The Hindenburg was the Concorde of the day, if you will.
What Is the Big Deal?
Two things:
a) The Hindenburg was the largest rigid airship ever built, and

b) it made one heck of a headline on May 6, 1937.
Measurements and Details of the LZ 129 Hindenburg
Length: 804 foot / 245 m
Maximum speed: 84 miles / 135 km
Passenger capacity:
Lifting gas: 200,000 m³ hydrogen
Powered by: 4 Mercedes Benz Diesel Engines (total 4,200 HP)
Passenger capacity: 55
Number of crew members: around 60

First flight: March 4, 1936
Last flight: May 6, 1937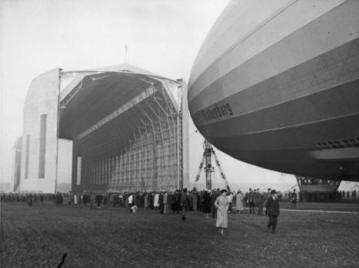 HINDENBURG - THE WORLD'S BIGGEST AIRSHIP



The Hindenburg Tragedy
On May 6, 1937, the Hindenburg arrived at Lakehurst, NJ, after its trans-Atlantic crossing. It prepared to dock and all of a sudden the aircraft burst into flames. 97 were aboard, 62 survived.
It would take 50 years before anybody would be even thinking out loud about building a rigid airship again.

THE HINDENBURG SECONDS BEFORE THE EXPLOSION


IT ONLY TOOK 30 SECONDS AND THE ENTIRE AIRSHIP WAS GONE

AIRCRAFT HINDENBURG IN FLAMES

Accident or Sabotage?
The official reason for the fire was that a discharge of atmospheric electricity occurred close to a hydrogen gas leak. But there were also rumors that it was an anti-Nazi act of sabotage. The movie makers of The Hindenburg (1975) chose go with the sabotage version because it just sells better.


HINDENBURG MECHANIC ROBERT MOSER
DIED IN THE TRAGEDY AGE 23
More History