Golden Horde 1227-1783


The Golden Horde was also called the Khanate of Kipchak and was inherited by Ögödei on occasion of his father's,

Genghis Khan's, death.
For more than 200 years, the people of the Golden Horde, also called

Tatars, were busy invading Europe and expanding their realm, burning one city after another to the ground.
The year 1395 brought about a surprise.

Timur invaded the invaders and, for a change, burned their capital, Sarai Berke.
It went downhill from there until the entire chapter was closed in 1783, when

Catherine the Great annexed what was left of the Golden Horde in the Crimea.
And here are the maps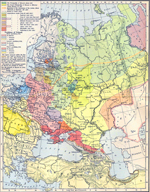 GOLDEN HORDE IN EUROPE
Click map to enlarge

The Yellow Empire at its largest extension

See also the chart

Governments of Russia.
More History