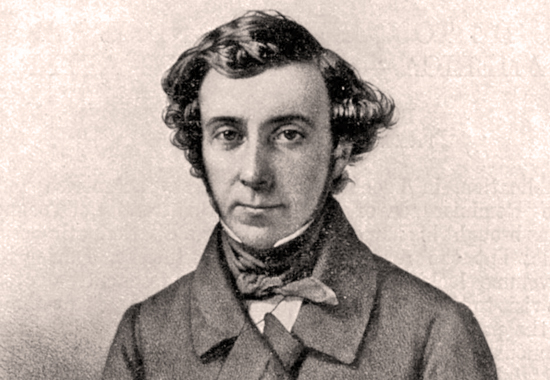 Alexis de Tocqueville 1805-1859
Image above:

Illustration of Alexis de Tocqueville, created 1840.

By whom?

Who knows.

LIFE.
PRONOUNCE TOCQUEVILLE

A Frenchman, Alexis de Tocqueville was born in Paris, France, and died in Cannes, France.
His full name was Alexis Charles Henri Maurice Clérel de Tocqueville but only a few people bothered.
Health wise, Tocqueville found himself a little bit on the delicate side.

ALEXIS DE TOCQUEVILLE
Tocqueville became famous for his book De la démocratie en Amérique (Democracy in America.)

Here you can read Democracy in America online, free, and in English.
Alexis de Tocqueville was multi-tasking as a politician, writer, political scientist, historian, and philosopher.
Together with his buddy Gustave de Beaumont, Tocqueville traveled the United States in the year 1831.
And together, they wrote the book The U.S. Penitentiary System and its Application in France.
In 1836, Alexis de Tocqueville married an English lady, Mary Mottley.

Here's the marriage contract.

MARY MOTTLEY
BNF
In 1849, Alexis de Tocqueville became French Minister of Foreign Affairs. But he was fired soon afterwards.
Alexis de Tocqueville Trivia

Napoleon Bonaparte was 36 years older than Alexis and died when Alexis was 16 years old.
For you fetish lovers,

here's a lock from Alexis's hair.
And here is the link to the

Alexis de Tocqueville Institution (ADTI).
Alexis de Tocqueville Quote
Back in the year 1835, when Tocqueville pondered the political future of the US and Russia, he wrote,
"One has freedom as the principal means of action; the other has servitude. Their . . . paths [are] diverse; nevertheless, each seems called by some secret design of Providence one day to hold in its hands the destinies of half the world."

Take that for a precise political forecast.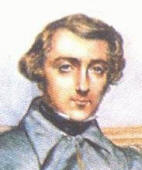 Alexis de Tocqueville
Alexis de Tocqueville & Native Americans
While traveling the United States, Alexis de Tocqueville, a keen observer, wrote into his journal,
"The Americans of the United States do not let their dogs hunt the Indians as do the Spaniards in Mexico, but at bottom it is the same pitiless feeling which here, as everywhere else, animates the European race.

"This world here belongs to us, they tell themselves every day: the Indian race is destined for final destruction which one cannot prevent and which it is not desirable to delay. Heaven has not made them to become civilized; it is necessary that they die. Besides I do not want to get mixed up in it. I will not do anything against them: I will limit myself to providing everything that will hasten their ruin. In time I will have their lands and will be innocent of their death.

"Satisfied with his reasoning, the American goes to church where he hears the minister of the gospel repeat every day that all men are brothers, and that the Eternal Being who has made them all in like image, has given them all the duty to help one another."

Sums it up nicely, doesn't it?
More on Alexis de Tocqueville

Check this link for all things Tocqueville, including timelines and all the good stuff.
And here is

an excellent Tocqueville site by the French and even in English. Voilà.
More History