Cleavenger was a telephone installations expert and he loved photography.
Franklin Lee Cleavenger's Short Biography
Franklin Lee Cleavenger was born at Waynesburg, Pennsylvania, on May 4, 1863. He died in 1923.
Franklin Lee Cleavenger's father was Samuel Cleavenger.
Cleavenger was employed by the Missouri & Kansas Telephone Company in Ft. Leavenworth, Kansas, where he and his family lived.
On October 20, 1900, Cleavenger moved from Kansas to Chihuahua to work as new superintendent for the Chihuahua phone company, the Compania Telefonica de Chihuahua. Cleavenger's boss was William Dale.
Here is a newspaper article describing the opening ceremony of the new branch.

TELEPHONY - AMERICAN TELEPHONE JOURNAL - October 14, 1911
Click to enlarge
In his spare time, Cleavenger was a busy photographer capturing many scenes
of Chihuahua during the

Mexican Revolution, including pictures of

Pancho Villa and his army. Here are some examples of his work.


CHIHUAHUA CITY, MEXICO - 1902
Click to enlarge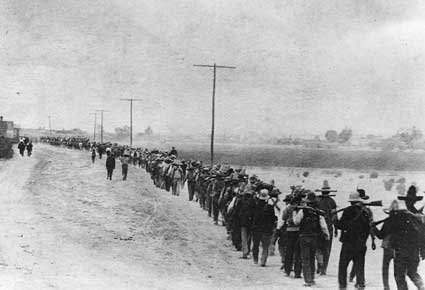 PHONE COMPANY CHIHUAHUA, MEXICO


PANCHO VILLA AND HIS ARMY OF MEN
Click to enlarge
You are welcome to visit the

Franklin Lee Cleavenger Collection site provided by the University of Texas at El Paso.
The Cleavenger Collection includes over 300 items, a combination of glass plates, photos, and documents.

THE CLEAVENGER FAMILY, CHIHUAHUA CITY IN THE BACKGROUND
Click to enlarge