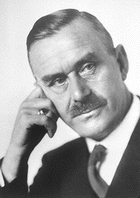 Thomas Mann 1875-1955

A German Classic, Thomas Mann was a novelist and received the Nobel Prize for Literature in 1929.
Some time after his father died, Thomas' family moved to Munich.

In Munich, Thomas Mann worked for an insurance company and as editor for the weekly magazine Simplicissimus. The magazine was published from 1871 until 1914.
THE FAMILY OF THOMAS MANN
Thomas' father was Heinrich Mann.
His mother was Julia Mann.
Thomas had an elder brother, Heinrich Jr., who was a writer as well.
Around 1918, there was some tension between Heinrich and Thomas when both brothers' political opinions went opposite directions. But by 1922 Heinrich and Thomas were buddies again.


THOMAS AND HIS BROTHER HEINRICH IN 1931
Deutsches Historisches Museum Berlin
[+] Click to enlarge.

In 1905, Thomas married Katia Pringsheim. Below you can see Katia waiting for her husband to pick up his honorary citizenship of his home town Lübeck in Germany.

THOMAS AND KATIA MANN 1955
Deutsches Historisches Museum Berlin
[+] Click to enlarge.
Katia and Thomas had six children. Three of them, Erika, Klaus, and Golo, also became writers.
THOMAS MANN AND THE NAZIS
In 1930, Thomas Mann had the brilliant idea to give a talk in Berlin with the topic An Appeal to Reason. In this oration he was basically rallying against the Nazis who in turn earmarked him.
While Thomas Mann's brother Heinrich teamed up with

Albert Einstein to collect signatures against the Nazis, Thomas decided to travel Europe and, after Hitler came to power in 1933, not to return to Germany any time soon. The Nazis made sure he would stay away and took his German citizenship.
Czechoslovakia felt sorry for him and thus Thomas Mann became a citizen of Czechoslovakia.
During

WWII, Thomas Mann collaborated with BBC and send some German radio messages to anyone who could tune in at home.
After having been accused to be a Communist in the US, Thomas settled down in Switzerland.
BRIEF BIOGRAPHY OF THOMAS MANN
1875 Birth in Lübeck, Germany

1891 Father dies

1894 Moves to Munich, Germany

1895 Quits his job and decides to be a writer

1896 Travels Italy together with his brother (until 1898)

1898 Editor for Simplicissimus (until 1900)

1900 Briefly military services

1905 Marries Katia

1919 Honorary doctorate - University of Bonn, Germany

1933 Leaves Germany

1936 Czechoslovakian citizen

1938 Moves to Princeton, US

1941 Moves to Pacific Palisades, California

1944 Becomes US citizen

1952 Moves to Erlenbach, Switzerland
THOMAS MANN TRIVIA
You are welcome to visit the

Thomas Mann Archive in Zurich.
Thomas Mann was a big fan of German philosopher

Shopenhauer, German philosopher

Nietzsche, and German composer

Wagner.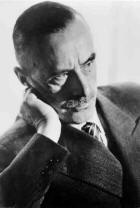 THOMAS LIKED TO HOLD HIS HAND TO HIS HEAD
Deutsches Historisches Museum Berlin
[+] Click to enlarge.
THE WRITINGS OF THOMAS MANN
1898 - The little Herr Friedemann, a collection of short novels

1901 - Buddenbrooks

1903 - Tristan, a collection. Included was the novella Tonio Kröger

1912 - Death in Venice

1918 - Reflections of an Unpolitical Man

1924 - The Magic Mountain

1930 - Mario and the Magician

1939 - The Beloved Returns

1943 - Joseph and His Brothers

1947 - Doktor Faustus

1951 - The Holy Sinner

1953 - The Black Swan

1954 - The Confessions of Felix Krull, Confidence Man
More History