Browse the Speech Archive
All speeches are organized by topic, by speaker, in chronological order, and by group.

Speeches in Chronological Order
Speeches by Date: Ancient Times-1800

Speeches by Date: 1801-1850

Speeches by Date: 1851-1900

Speeches by Date: 1901-1920

Speeches by Date: 1921-1940

Speeches by Date: 1941-1950

Speeches by Date: 1951-1960

Speeches by Date: 1961-1965

Speeches by Date: 1966-1970

Speeches by Date: 1971-1980

Speeches by Date: 1981-1990

Speeches by Date: 1991-Today

Speeches by Group
Speeches Given by Women

Speeches Given by African-Americans

Speeches Given by U.S. Presidents

Frequently Viewed Speeches

Abraham Lincoln: Gettysburg Address
1863

Winston Churchill: Their Finest Hour
1940

Martin Luther King Jr.: I Have a Dream
1963





Find pictures and photos of historic people and events.
Picture Archive A - C

Picture Archive D - M

Picture Archive N - Z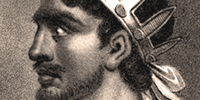 The greatest of all Barbarian rulers, Attila kicked rear on a large scale.
Attila short biography

Map of Attila's empire

Battle of the Catalaunian Plains

Who were the Huns?


Two revolutions in 1917 changed Russia for good. How the Russians switched from Empire to the Bolshevik Peace, Land, and Bread government:

Russian Revolution of 1905

Russian Revolution of 1917

Russian Civil War 1917-1920

Russian Revolution Timeline

Grigory Y. Rasputin

World War One

Vladimir I. Lenin

Joseph Stalin

What is Communism?

Also called the Persian Wars, the Greco-Persian Wars were fought for almost half a century from 492 BC - 449 BC. Greece won against enormous odds. Here is more:
Battle of Marathon
Battle of Thermopylae
Battle of Salamis
Battle of Plataea