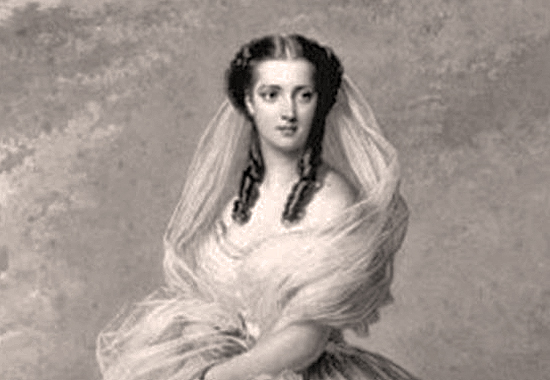 Alexandra Princess of Wales 1844 - 1925
Image above:

Alexandra of Denmark, Queen Consort of King Edward VII, as Princess of Wales

Detail. Richard Lauchert / Samuel Cousins

Government Art Collection
Her real name was Alexandra Caroline Mary Charlotte Louisa Julia and she was Danish.

Alexandra and her bird Lester
Alexandra's father was king Christian IX of Denmark. Her mother was Louise of Hessen-Kassel.
Alexandra's brothers were Frederik (Frederik VIII), Wilhelm (George I), and Valdemar. Her sisters were Dagmar (Maria Fyodorovna) and Thyra.


FATHER CHRISTIAN AND SISTER DAGMAR
The Royal House, Denmark
By marriage, Alexandra became queen consort of

King Edward VII of Great Britain.

ALEXANDRA OF DENMARK & KING EDWARD VII
Gunn & Stuart. National Portrait Gallery, London
Alexandra had six children. One of them was wee George, who became

King George V. Wee Maud made it to Queen of Norway. The children were Albert Victor, Louise, Victoria, and John.

ALEXANDRA WITH HER SONS
PRINCE ALBERT VICTOR AND PRINCE GEORGE IN 1889
The Royal Collection
More History