Tuff stuff, but Pablo outlived them all. Besides, what the good man lacked in military victories he made up with brutality.


PABLO GONZÁLEZ WITH HIS NEW PUTTER
Pablo González and the Guerrillas
As to Pablo González Garza's reputation, it is said that his employed methods of repression overshadowed even those adopted by

Victoriano Huerta and Robles Domínguez in earlier counterrevolutionary campaigns.

But what González really did was giving the people of

Morelos a reason to rally again and to resume the revolution. González' barbaric methods pushed the people back towards Zapata in their misery, more bitter and more determined because now they had even less to lose.

On top of that the people of Morelos had already seen the major improvements Zapata had brought about. All that was swept away once more by the federals and the state of Morelos went back to guerrilla war fighting 30,000 well-armed federals in small units of 100 or 200.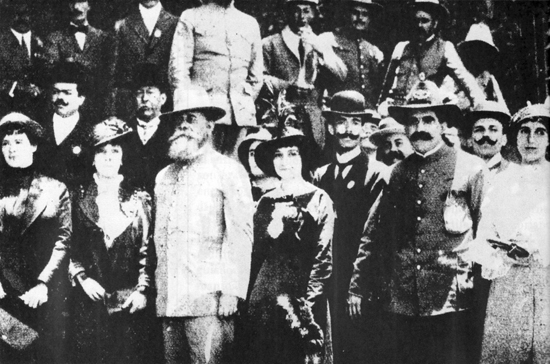 VENUSTIANO CARRANZA AND PABLO GONZÁLEZ
Library of Congress
Pablo González and Zapata's Death
You can check the entry of the events leading up to Emilio Zapata's killing in the

Timeline of the Mexican Revolution.


Álvaro Obregón, PABLO GONZÁLEZ, Jacinto B. Treviño
The three generals at a restaurant in Chapultepec, May 1920 (left to right)
Hemeroteca Nacional

GENERAL PABLO GONZÁLEZ
Archivo Cassola

GENERAL PABLO GONZÁLEZ (CENTER) WITH GENERALS Jesús Carranza,
Francisco Murguia, and Antonio I. Villareal
Library of Congress