Leon Trotsky 1879-1940
Leon Trotsky, also spelled Trotskii, was originally Lev Davidovich Bronshtein. He was born in the Ukraine and assassinated in Mexico. In-between he was arguably the brightest of the Russian Revolutionaries.


Photo Top
Leon Trotsky around 1940, The Trotsky Archive, marxist.org
Leon Trotsky's Name

Lev Bronshtein was exiled to Siberia in 1898. He escaped and took with him the name of one of his prison guards, Trotsky.

Leon Trotsky's Family

Leon Trotsky's parents were Jewish. His father was David Bronshtein, a farmer. His mother was Anna Bronshtein. Bronshtein is also spelled Bronstein.
Trotsky had four siblings. Two died in infancy. An older brother and an older sister survived infancy.
In 1903, Trotsky married Natalya Sedova. They had two sons, Lev and Sergey.

Leon Trotsky and International Politics

From January 9, 1918, Trotsky headed the negotiations that would eventually result in the

Treaty of Brest-Litovsk. After this feat, Trotsky switched offices and became the People's Commissar of War.

Leon Trotsky as War Commissar

From March 1918, Trotsky was in charge of creating a functional Red Army to defend the progress of the Bolshevik Revolution. This army was put to the test during the

Russian Civil War 1918-1920.
The Red Army was successful.
In March 1921, Trotsky led his troops to brutally crush the Kronshtadt Rebellion, also spelled Kronstadt Revolt.
Trotsky functioned as war commissar until November 1924.

Losing to Stalin

Lenin died in January 1924 and

Josef Stalin was busy becoming god. Stalin put all potential rivals on a black list and Trotsky was on it. He was fired from the office of war commissioner in January 1925, from the Politburo in October 1926, from the party in 1927, and from the country in January 1929.
Looking for a new home, Trotsky and his wife Natalya Sedova found many doors closed. They eventually ended up in Mexico. Trotsky made friends with the famous painter Diego Rivera and even better friends with his wife, Frida Kahlo.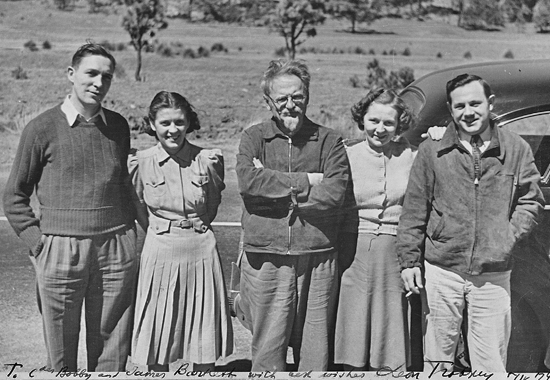 TROTSKY WITH ADMIRERS IN MEXICO
(Harry De Boer and James H. Bartlett and their spouses)
U.S. National Archives
Being a revolutionary to the bone, Trotsky kept busy politically and of course, Stalin sent his goons to put an end to that. The first assassination attempt, a machine gun attack on Trotsky's residence, was unsuccessful. The second one, an ice pick skillfully swung by Ramón Mercader, got the job done.
Ramon Mercader served 20 years in Mexican prison. He was released in 1960 and Khrushchev declared him officially Hero of the Soviet Union.

Stalin being Stalin systematically killed Trotsky's family one by one.
Leon Trotsky's Short Biography


October 26, 1879
(November 7, 1879 old style)

Birth in Yanovka, Ukraine

18..

School in Odessa

1896

Moves to Nikolayev, joins the Social Democratic Party

1898 - 1902

Exiled to Siberia as Bronshtein, escapes as Trotsky, goes to London

1903

The Social Democratic Party splits into Bolsheviks and Mensheviks. Trotsky joins the Mensheviks.

Early 1905

Returns to Russia to support the Russian Revolution of 1905

Late 1905

Gets arrested

1906

Trial and exile to Siberia once again

1907 - 1914

Escapes again and goes to Vienna, works as a journalist

1914

WWI starts and Trotsky goes to Switzerland, then Paris

January 1917

France kicks him out and Trotsky goes to New York, works again as a journalist

May 1917

Returns to Russia to support the Russian Revolution of 1917, becomes a Bolshevik

November 1917 - 1918

People's Commissar for Foreign Affairs

March 26, 1918
(March 13, 1918 old style)

People's Commissar of War and Chairman of the Supreme War Council

January 15, 1925

Trotsky writes letter of resignation as War Commissar

January 17, 1925

Central Committee confirms Trotsky's resignation

January 26, 1925

Frunze named new War Commissar

1929

Trotsky exiled, goes to Turkey

1933

Goes to France

1935

Goes to Norway

1936

Goes to Mexico

August 21, 1940

Assassinated at Coyoacán, Mexico
Russian Civil Wars in a Nutshell
The Russian Revolution of 1905

The Russian Revolution of 1917
Related Timelines
Timeline of World War I - 1914

Timeline of World War I - 1915

Timeline of World War I - 1916

Timeline of World War I - 1917

Timeline of World War I - 1918

Timeline of the Russian Revolution of 1905

Timeline of the Russian Revolution of 1917

Timeline of the Russian Revolution and
Major Wars between 1800 and 2000

Timeline of the Russian Civil War 1917

Timeline of the Russian Civil War 1918

Timeline of the Russian Civil War 1919
Faces of the Russian Revolution
Aleksandr Fyodorovich Kerensky

Anatoly Vasilyevich Lunacharsky




More History