Governments of Britain

Here follows a list of the sovereigns of the
Kingdom of Scotland (843-1625)

Kingdom of Wessex (802-924)

Kingdom of England (925-1603)

Great Britain and the United Kingdom (1603-Today)




Flag of Scotland

843 - 1625

Kingdom of Scotland
(Scots, Britons, Angles, Picts)

King or Queen:
843 - 858: Kenneth I MacAlpin
858 - 862: Donald I
862 - 877: Constantine I
877 - 878: Aed (Aodh)
878 - 889: Eochaid (Eocha) and Giric (Ciric)
889 - 900: Donald II
900 - 943: Constantine II
943 - 954: Malcolm I
954 - 962: Indulf
962 - 966: Dub
966 - 971: Culen
971 - 995: Kenneth II
995 - 997: Constantine III
997 - 1005: Kenneth III
1005 - 1034: Malcolm II
1034 - 1040: Duncan I
1040 - 1057: Macbeth
1057 - 1058: Lulach
1058 - 1093: Malcolm III Canmore
1093 - 1094: Donald Bane (Donalbane)
1093 - 1094: Duncan II
1094 - 1097: Donald Bane (restored)
1097 - 1107: Edgar
1107 - 1124: Alexander I
1124 - 1153: David I
1153 - 1165: Malcolm IV
1165 - 1214: William I the Lion
1214 - 1249: Alexander II
1249 - 1286: Alexander III
1286 - 1290: Margaret, Maid of Norway
1290 - 1292: Interregnum
1292 - 1296: John de Balliol
1296 - 1306: Interregnum
1306 - 1329: Robert I the Bruce
1329 - 1371: David II
1371 - 1390: Robert II
1390 - 1406: Robert III
1406 - 1437: James I
1437 - 1460: James II
1460 - 1488: James III
1488 - 1513: James IV
1513 - 1542: James V
1542 - 1567: Mary, Queen of Scots
1567 - 1625: James VI
(from 1603 also James I of England)
802 - 924

Kingdom of Wessex (West Saxons)

King:
802 - 839: Egbert
839 - 856: Aethelwulf
856 - 860: Aethelbald
860 - 866: Aethelbert
866 - 871: Aethelred I
871 - 899: Alfred the Great
899 - 924: Edward the Elder


Flag of England

925 - 1603

Kingdom of England
King or Queen:
925 - 939: Athelstan
939 - 946: Edmund I
946 - 955: Edred
955 - 959: Edwy
959 - 975: Edgar
975 - 978: Edward the Martyr
978 - 1013: Aethelred II
1013 - 1014: Sweyn Forkbeard
1014 - 1016: Aethelred II (restored)
1016 - 1016: Edmund II Ironside
1016 - 1035: Canute
1035 - 1040: Harold I
1040 - 1042: Hardecanute
1042 - 1066: Edward the Confessor
1066 - 1066: Harold II
1066 - 1087: William I the Conqueror
1087 - 1100: William II
1100 - 1135: Henry I
1135 - 1154: Stephen
1154 - 1189: Henry II
1189 - 1199: Richard I the Lionheart
1199 - 1216: John
1216 - 1272: Henry III
1272 - 1307: Edward I
1307 - 1327: Edward II
1327 - 1377: Edward III
1377 - 1399: Richard II
1399 - 1413: Henry IV
1413 - 1422: Henry V
1422 - 1461: Henry VI
1461 - 1470: Edward IV
1470 - 1471: Henry VI (restored)
1471 - 1483: Edward IV (restored)
1483 - 1483: Edward V
1483 - 1485: Richard III
1485 - 1509: Henry VII
1509 - 1547: Henry VIII
1547 - 1553: Edward VI
1553 - 1558: Mary I
1558 - 1603: Elizabeth I
1603 - Today

Great Britain and the United Kingdom
King or Queen:
1603 - 1625: James I
1625 - 1649: Charles I
1653 - 1658: Oliver Cromwell (Lord Protector)
1658 - 1659: Richard Cromwell (Lord Protector)
1660 - 1685: Charles II
1685 - 1688: James II
1689 - 1694: William III and Mary II
1694 - 1702: William III
1702 - 1714: Anne
1714 - 1727: George I
1727 - 1760: George II
1760 - 1820: George III
1820 - 1830: George IV
1830 - 1837: William IV
1837 - 1901: Victoria
1901 - 1910: Edward VII
1910 - 1936: George V
1936 - 1936: Edward VIII
1936 - 1952: George VI
1952 - : Elizabeth II
By the way, what is the difference between Britain, Great Britain, and the United Kingdom?
Britain and Great Britain are the same: It's the island that consists of England, Scotland, and Wales.
United Kingdom: Great Britain plus Northern Ireland.
And yes, you can use the word Britain when you refer to the United Kingdom.

Here are the maps: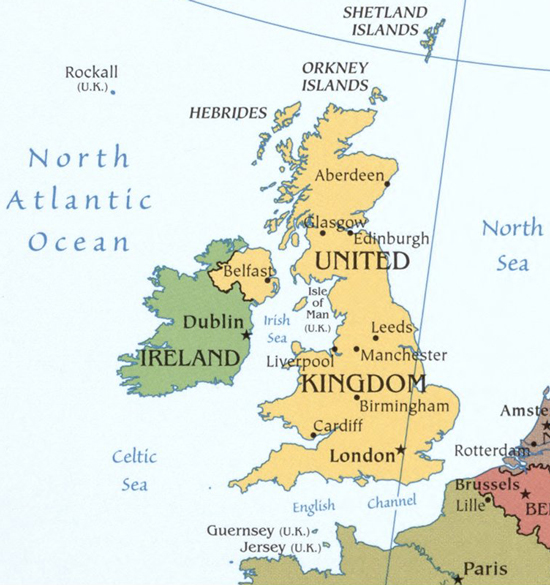 Map of the United Kingdom
Click to view the entire map of Europe

Map of the United Kingdom
Click to enlarge
More History